EVENTS
No events available at this time. Please check back later.
BOOKS
| | |
| --- | --- |
| | Grit has been recommended to me by multiple professors and even my high school Lacrosse coach. All have said reading this book changed their lives. While the book isn't engineering specific I do think it applies to engineering students. Engineering is notoriously an extremely difficult major, no matter what discipline you choose. Learning to have Grit early on in college will give you the ability to succeed and make it all the way through college, work, and life. |
TV & MOVIES
| | |
| --- | --- |
| | Hidden Figures tells the true story of Katherine Johnson, Dorothy Vaughn, and Mary Jackson. These 3 women paved the way for women and people of color at NASA. If you're a minority or woman in engineering, this is the movie for you. I always feel really good about what I'm doing after watching it |
| | |
| --- | --- |
| | This short series is a documentary about the Challenger mission, and discusses the issues leading up to the devastating launch (Hint: Utah had something to do with why Challenger blew up) as well as highlights some of the people that were on the mission. |
| | |
| --- | --- |
| | This short series is about the story behind Disneyland and talks about the engineering that went into making it all possible |
| | |
| --- | --- |
| | This movie starring Tom Hanks and Kevin Bacon follows the true story of the Apollo 13 mission. Follow the team as Houston tries to navigate the best way to get them back to Earth If you were wondering, this is the origin story of "Houston, we have a problem". |
| | |
| --- | --- |
| | Interstellar isn't based on a true story but part of me wishes it was real. Earth is decaying and the only hope is finding a planet that can sustain human life. Mathew McConaughe goes on the mission to find that planet but the only way there is through a wormhole. That's when things start to get interesting. |
| | |
| --- | --- |
| | Mythbusters is a classic science/engineering tv show, starring Jayme Heinamen and Adam Savage. Each episode consists of finding a myth, designing a way to test the theory, a building sequence, a conclusion, and explosions. Just your basic design process. |
YOUTUBE CHANNELS
Mark Rober is a former Nasa engineer who has since used his engineering know-how to build fun and exciting projects like an obstacle course for squirrels and a dart board that never misses. He takes you through his process and design process while getting you just overall really pumped to make something yourself.
Adam Savage is most commonly known from his years of busting myths on Mythbusters. Adam takes you into his workshop to watch all sorts of builds from costumes, to shop improvements, to talking about his set design days. You're able to watch in real time as Adam designs, fails, and tries again, just like real life engineering. While He's created the channel with a variety of people, his videos are still my favorite to watch, but definitely don't forget to check them out as everyone else has a lot of great skills they bring to the table as well.
Crash Course is filled with so many informative videos that usually teach a concept in under 5 minutes or so. They have a few engineering specific playlists that could prove extremely useful for late night cramming. These playlists include Physics, Chem, O Chem, Computer Science, Engineering, and statistics. They're also always adding more so keep checking in.
Khan Academy

Khan has been a huge lifesaver and just like Crash Course offers help on concepts you just don't get when you're listening to your professor. Khan offers great videos as well as practice problems with instant feedback and hints to make sure you've got everything understood. They have an Electrical Engineering course, a Computer Science Course, and while they don't currently have a Mechanical Engineering course, there are plans for one in the future. For now, the Physics Library seems to have a lot of relevant concepts for ME students
MAJORS/MINORS/CERTIFICATES
Mechanical Engineering - Major
Electrical Engineering - Major
Biomedical Engineering - Major/Minor
RESOURCES
Dr. Carlotta Berry, Dr. Monica Cox, and Dr. Tahira Reid Smith organized a meeting of Black faculty in June 2020. In that call to action, approximately 50 Black engineering faculty convened, shared personal stories, and decided to do something in solidarity with people who demanded changes in oppressive systems.

Drawing on the 400+ members of the Academic and Research Leadership (ARL) Network, Black in Engineering is focused on convening the Black engineering professional community in social justice efforts, providing spaces for us to share our experiences, celebrating who we are, educating those who wish to join our Movement, and connecting with sponsors and allies.

Whether you are a Black engineering faculty, student, staff, researcher, practitioner or advocate, we welcome you to our village to promote change.
Macy Lin Moore
Hi there! I've lived in Holladay Utah almost my whole life and always wanted to attend the U, so now I'm a freshman here! I'm studying Mechanical Engineering and am so excited for all the knowledge I'll be gaining in the next few years. I've always really enjoyed engineering classes like composites and engineering tech design so ME has felt like a good fit. I haven't decided on an emphasis but I'll probably end up doing somethin like bio. In the future, I hope to be able to use my degree to design prosthetics but we'll see where the future takes me! I'm super passionate about ending up in a place where my work benefits people's lives. When I'm not engineering, I'm painting, camping/hiking, playing board games (or trying to convince my friends to play), and enjoying my favorite tv shows and movies.
LEARN MORE ABOUT YOUR MAJOR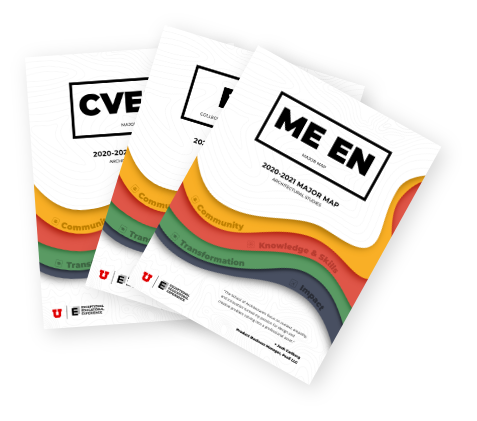 View Major Maps and discover everything you need to about you major and extra-curricular activities.